The Equus Effect at High Watch
Group Equine Therapy Experiences
Guests are offered a group equine experience: Our program consists of four three hour sessions over two weeks. Individual equine therapy sessions are also available.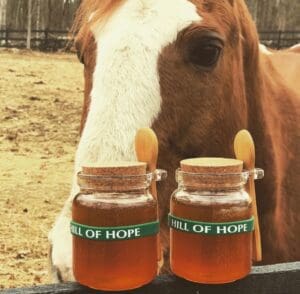 Equine-assisted therapy is an experiential learning process that involve activities with horses to promote human physical and mental health. The goal of equine therapy is to help the participant develop needed skills to become more emotionally agile.
Through the process of building resonance with the horse, the participant can learn to experience the emotion, identify what the emotion is telling him/her, change what must be changed and return to a steady emotional state. This helps the participant improve impulse control, accountability, responsibility, self-confidence, stress tolerance, problem solving skills and self-control.
"When I got to High Watch in 2006 I was dying on the inside and the outside. Truly the greatest gift I received in this life was going to the "Hill of Hope". They brought me back from the dead and taught me everything I needed to know to be successful long term and it was very simple that even I (who knew everything and nothing) could understand. Old school suit up...show up...shut up...God Bless High Watch!"
-Cara B..